Testimonials
"Hunting with Last West Outfitting was a dream come true. From the moment I met the team in the Harrisburg Outfitter Show to when he dropped me off at the airport everything was fantastic. Franck was amazing to be in the mountains with. We were in some of the most beautiful country and the goats were plentiful and quality. Every detail was taken care of Sylva (beautiful dog) was our constant companion and our protector in
the woods. The best advice I can give is to come prepared physically and mentally. It was a true adventure for me and I am going to be back this year. I consider Franck a friend now. "

Andrew F., GA (2022)
"Franck, I was sitting around thinking about our mountain goat hunt and wanted to thank you again for a trip of a lifetime! It was everything I thought it should be,

You were a great guy and guide to boot.

Hope I get to hunt with you in the future and thanks again for the memories!"

Chris S., IN (2022)
"I went on my first mule deer hunt in November 2022 ... with Last West Outfitting in Alberta, Canada. I had a great experience all the way around and I can't say enough about my guide, Franck Besseat. He was outstanding. Personable, hard-working and very knowledgeable about the area and the
multiple species of local wildlife. I got my mule deer on the third day of my seven day hunt.

I would highly
recommend Last West Outfitting to any hunter looking for a truly
professional hunting experience with a great guide at a great price!"

Leslie A., NY (2022)
BEST TROPHY HUNTS IN CANADA
Whitetail Deer Hunts
Alberta is a top destination for some of the world largest Whitetail trophies. We specialize in archery and rifle whitetail deer hunts in one of the Alberta's highest buck-to-doe ratio areas that includes an excellent age structure and ever-growing deer population. We only take a few hunters at a time to be able to fully focus on your success. Our flexibility and dedication allow us to decide, with you, what the best length of time, hunting conditions, shooting distance, and setup might be to increase your chances of success. Our hunts are authentic, wild and even athletic - if you choose. No fences, no bait. We promote fair and responsible outfitted experiences in central Alberta, Canada.

Our Whitetail Archery Hunts
Our archery hunts start as early as September 1st. The very first hunt of the year gives you the opportunity to harvest a velvet trophy. Hunters can choose the number of hunting days from 6 to 10 days. Whitetail archery hunts can also be combined with a Mule Deer. Hunts are from 12-foot tree stands setup on the fringe of farmland or tree lines.
We will welcome you in our fully serviced hunting lodge in the middle of the hunting area; remote but still very comfortable. With only 2 hunters at the time, this hunt is very exclusive. You will get all the attention you need from our guide to be successful.

Our Whitetail Fall Rifle Hunts
In Alberta, hunting whitetail trophy deer as early as September through the month of October is only allowed in a few areas. We are fortunate to have allocations for hunters who want to rifle hunt without having to endure the cold weather month of November.
These fall rifle hunts are fully customized in terms of duration, period, and even setup. We recommend a good level of fitness for these hunts which might require going deep in the woods to find the trophy of your lifetime.

Our Whitetail Deer Rut Hunts
We offer peak rut rifle Whitetail hunting in the foothills of the Rockies, just over an hour drive from the Edmonton International Airport. Rut hunts are as popular as they are successful in this high-density area of the Rocky Mountain Foothills. The genetic in the area produces some of the world's largest whitetail deer trophies.  
Most of the hunts are from 12-foot tripod stands which offer great visibility and a lot of shooting options. Sometimes, depending on the setup and the weather conditions, we might move to heated ground blinds or elevated tower stands.
During the rut, bucks are very active tracking does, providing all day action. Statistics show that trophy bucks can be seen at any time of the day. During this hunt, hunters are encouraged to practice their rattling and grunting skills, contributing to making this hunt very enjoyable and participative.
Mule Deer Hunts
Our mule deer archery hunts are conducted in the Central Alberta Foothills, about 1hr30mn from the Edmonton International Airport (YEG). Our hunting cabins are located right on the middle of the hunting area in WMU 332. Our Mule Deer archery hunts are essentially spot and stalk on private farmland with the use of tree stands occasionally depending on the deer behavior.
During the rut, in November, we hunt a territory of over 300,000 acres of farmlands. A rut hunt is a combination of spot and stalk and sitting in a stand.
During the rut, our mule deer hunts can be combined with a whitetail hunt. Central Alberta is one of the rare places producing both world class whitetail and mule deers.

Canada Moose Hunts
If you are looking for an authentic hunt, don't look any further. Our 900+ square miles hunting territory is as far north as it can be in Northern Alberta, bordering the Wood Buffalo National Park, in WMU531. Habitat is comprised of marshes, lakes, high country and slopes to the Athabasca river, home of trophy size bulls. With not more than 6 bulls harvested per year, our territory is set to produce excellent trophy size moose. The hunts are conducted from our fly-in only remote camp where non-hunters are also welcome. This hunting territory is as wild as it can get, populated with mooses, wood buffalos, wolves and black bears.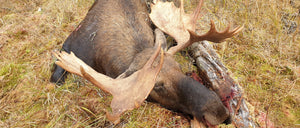 Black Bear Hunts
If you are looking for a true bear camp experience in Alberta, we have you covered; 95% of the bear harvested at our camp are book record trophy black bear. We specialize in 7-foot square hide trophies and have been doing it for over 15 years. This is a must-do if you're looking for a totally remote camp, a lot of bear to pick from, some quading and sharing great hunting stories while enjoying some amazing meals in a comfortable outfitter's camp.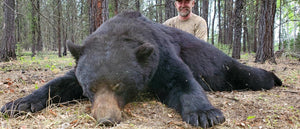 Predator Hunts
We offer Wolf and Coyote hunts during the winter in the Alberta foothills. Our hunts are very successful and are a good opportunity to spend a few days, a full week or just a week end out in the countryside during the cold winter months. We run about 8 bait sites from beginning of December to the end of February. Wolf are essentially hunted from a blind over a bait site. Coyote are either hunted from a blind or by calling them in.

Trophy Hunts Success Rate

Almost 100% success rate on our Predator hunts.
100% shooting opportunity on our Whitetail Deer rut hunts in 2022.
100% success rate on our Black Bear hunts.
Testimonials
Franck has a solid understanding of big game, their habits and movement. Always a pleasure to be around and a fun guy to hunt with.

Jeremy Hatala, Double Diamond Wilderness Hunts
Franck, we want to express our appreciation for the quality hunting experience we had in Whitetail hunting in Alberta. Your knowledge about the area and resident deer habits made for a successful hunt.

Dennis, Texas
Thank you for the dedication and hard work you provide for each of your clients, it gives us an opportunity to harvest that lifetime Alberta Whitetail.

Judy, Texas